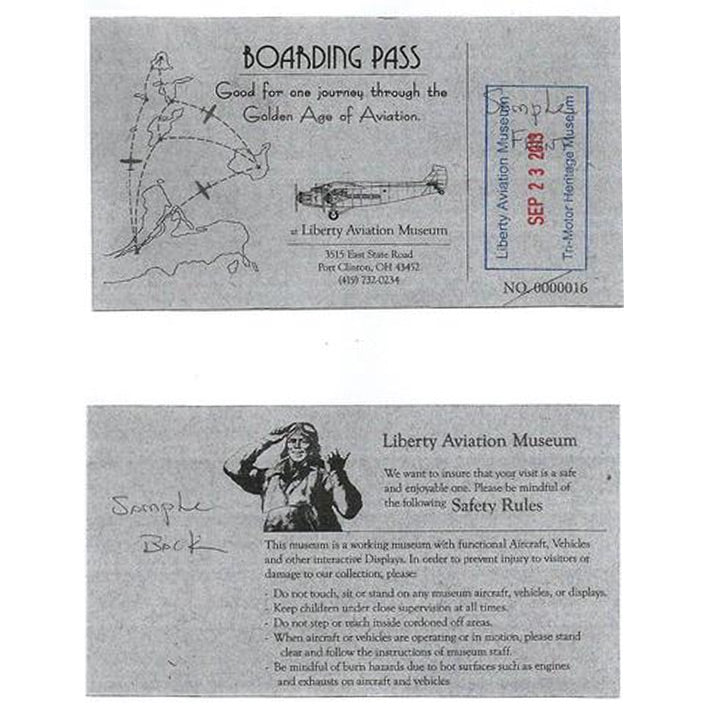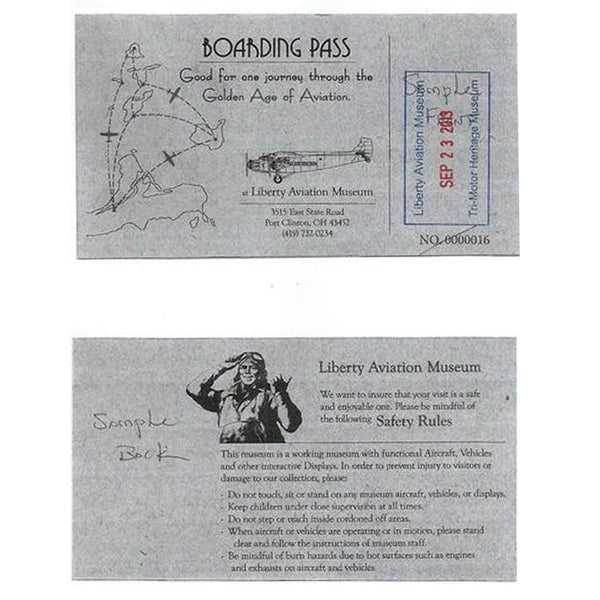 Great stocking stuffer or gift for any occasion!  Purchase a gift admission ticket to the Liberty Aviation Museum with no expiration date!  All museum admissions are charitable donations and will receive no taxes on the purchase of a gift admission ticket.  The purchase is also tax deductible!  Gift admission tickets are redeemable during any regular museum business hours to gain admission to the facility. (Special events are excluded. If unsure, please call to verify hours and if any special events are occurring.)  Each pass is good for any adult or for any child.
**No expiration date for the gift "boarding pass" Photo shows a copy (Front & Back) of the gift "boarding pass" you will receive, along with a museum brochure and Thank You letter. 
**Museum boarding passes DO NOT include PT boat experiences or Ford Tri-Motor flight experiences.  Ford Tri-Motor flight experiences can be purchased in advance when dates are announced.  Please visit www.flytheford.org  Experiences & tours of the boat will be separate from the museum tour. The PT-728 Thomcat will be available for experiences & tours mid-summer TBA.  Please follow our Facebook, Twitter, & website for updates. Please call the museum to avoid disappoint if you are looking to view a specific item as all of our vehicles & aircraft do operate and travel to shows occasionally.**
Note: Price includes shipping.