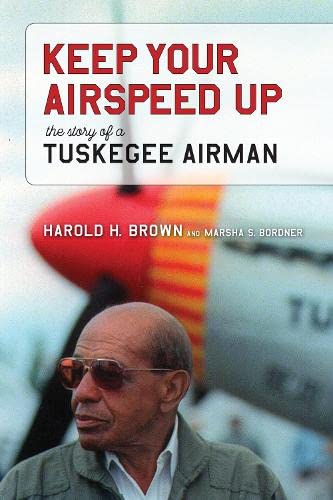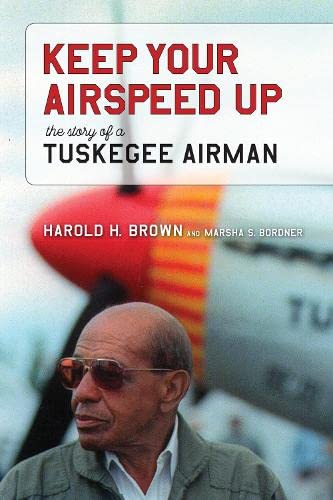 by authors: Marsha S. Bordner, & Harold Brown
An inspiring memoir of Colonel Harold H. Brown, one of the 930 original Tuskegee pilots, whose dramatic wartime exploits and postwar professional successes contribute to this extraordinary account.
Keep Your Airspeed Up: The Story of a Tuskegee Airman is the memoir of an African American man who, through dedication to his goals and vision, overcame the despair of racial segregation to great heights, not only as a military aviator but also as an educator and as an American citizen.
Unlike other historical and autobiographical portrayals of Tuskegee airmen, the late Harold H. Brown's memoir is told from its beginnings: not on the first day of combat, not on the first day of training, but at the very moment, Brown realized he was meant to be a pilot. He revisits his childhood in Minneapolis where his fascination with planes pushed him to save up enough of his own money to take flying lessons. Brown also details his first trip to the South, where he was met with a level of segregation he had never before experienced and had never imagined possible.
During the 1930s and 1940s, longstanding policies of racial discrimination were called into question as it became clear that America would likely be drawn into World War II. The military reluctantly allowed for the development of a flight-training program for a limited number of African Americans on a segregated base in Tuskegee, Alabama. The Tuskegee Airmen, as well as other African Americans in the armed forces, had the unique experience of fighting two wars at once: one against Hitler's fascist regime overseas and one against racial segregation at home.
Colonel Brown fought as a combat pilot with the 332nd Fighter Group during World War II, and was captured and imprisoned in Stalag VII A in Moosburg, Germany, where he was liberated by General George S. Patton on April 29, 1945. Upon returning home, Brown noted with acute disappointment that race relations in the United States hadn't changed. It wasn't until 1948 that the military desegregated, which many scholars argue would not have been possible without the exemplary performance of the Tuskegee Airmen.